Can you tell us a little about the services that Treezor offers?
Didier Lallemand: Applying for a Payment Institution (PI) or Electronic Money Institution (EMI) license from the French regulator (ACPR) can be time-consuming and costly, especially for companies that are just starting to launch their business. With this in mind, the founders of Treezor (Eric Lassus and Xavier Labouret) decided to create Treezor in 2016, a Banking-as-a-Service (BaaS) platform that provides Fintechs with payment services available via API, regulated by the authorizations obtained from the French regulator either by Treezor or by themselves. Treezor accelerates projects for startups or entrepreneurs that are looking to go to market without having to wait while benefiting from a trusted regulatory and tech foundation.
Treezor was acquired in 2019 by Societe Generale group, allowing it to expand its offering to large companies. The services offered by Treezor cover the entire payment chain, from acquiring to issuing. Treezor acts as a BaaS (Banking-as-a-Service) provider for its customers, offering them a technical and regulatory solution or, only as a Payment Service Provider (PSP) by providing the technical part, following the example of Core Banking Systems (CBS).
Treezor is authorized by the ACPR as an Electronic Money Institution and is a principal member of the Mastercard and Visa networks. Following a recent extension of its authorizations with the ACPR, Treezor became the first authorized institution to have all the payment services licenses (from 1 to 8).
How does the partnership with Societe Generale strengthen your value proposition on the French market?
Didier Lallemand: The merger with Societe Generale has given us more visibility with large companies, especially when it comes to meeting their compliance requirements – level of risk, processes, governance – which are high for such players. Treezor has adapted its offer to meet the expectations of these companies which are more in search of very modular service solutions. Treezor has also extended its offer by integrating a set of services carried by other entities of the Societe Generale group and available via API, such as credit services with Franfinance.
What are your development ambitions regarding your offers?
Didier Lallemand: Our first challenge is to meet all of our customers' payment needs, whether they are fully digital startups, large companies, retailers, etc. To meet these needs, we want to cover all types of payment services, from check management to Buy Now Pay Later (BNPL) payment facilities, including the issuing and acquisition of bank cards, transfers, direct debits, and soon payment initiation via DSP2-specific APIs.
Julien Maldonato: One of the payment methods that will develop strongly in the coming years is BNPL solutions. This easy payment solution is an effective way to bring value to both customers and retailers: customers can break up payments for purchases and retailers have a tool that facilitates sales. Especially since digital consumption has been growing (the COVID-19 health crisis has led to an acceleration of online payments in 2020), this suggests that these payment solutions will develop strongly in the coming years.
Do you plan to develop services in crypto currencies?
Didier Lallemand: Treezor can already count some crypto-currency market players among its customers. Indeed, some exchange platforms (for converting FIAT currencies – for example the euro – into crypto currencies) use Treezor's wallets to host the amounts in euros received from their customers. Beyond this use case, Treezor does not currently offer payment services in crypto-currencies. However, this could be something to think about for the future, especially with the development of stablecoins (crypto-currencies whose value is stable and guaranteed by deposits) which have many similarities with electronic money.
Julien Maldonato: The development of crypto currencies and more generally of Web 3.0 technologies is the next revolution in the financial sector. Today, financial players are already confronted with the development of crypto currencies: their clients can repatriate euro funds whose capital gains have been realized in crypto currencies. They must then be able to justify the origin of the funds for anti-money laundering and anti-terrorist financing purposes. As mentioned by Treezor, a second use case consists in opening euro accounts to host the funds of the exchange platforms' customers. In this case too, a duty to monitor the origin of the exchange platform's funds must be exercised. There is also an increase in market players offering their own crypto currency services: Revolut offers to buy and sell crypto currencies, Lydia offers to invest in shares in digital assets, Banque Casino launched the Lugh, a stable coin backed by the euro, with the help of Societe Generale…
What impact has PSD2 had on your business?
Didier Lallemand: At Treezor, the PSD2 has been a source of opportunities because it has allowed us to expand our service offering by integrating finance in extra-financial areas. For example, the Account Aggregation API (AISP) allows you to automatically calculate the credit score of a customer and thus provide an immediate opinion on their creditworthiness and the Payment Initiation API (PISP) allows you to verify the existence of a bank account during the KYC (Know Your Customer) process.
On the French market, there is a real appetite for payment initiation APIs. Transfer initiation can be used to pay invoices, as transfers have the advantage of being more secure than direct debits, due to their irrevocability. It can also be executed in real time in the case of SCT Instant Payment.
It should be noted that even if market standards relating to PSD2 APIs have been created, the APIs remain heterogeneous from one bank to another.
Julien Maldonato: Indeed, payment initiation allows for very interesting use cases. It will facilitate bill payment by replacing direct debit or recurring payment by credit card. The customer will receive a link (via SMS, email, WhatsApp…) describing the bill to be paid, and asking the customer to click on a button or scan a QR code to proceed with the payment. The transfer will then be initiated, with the payment reference defined by the retailer, which will facilitate the reconciliation. The Request-to-Pay (RTP) protocol that will be available starting in 2023 will accelerate the development and adoption of this use case.
What is your goal for international development?
Didier Lallemand: International expansion is an important goal for Treezor. The objective is to replicate the services offered in France in other European countries, in order to position ourselves as a European player in embedded finance. Treezor supports its French customers who set up in Europe but also its European customers who want to set up in France. Treezor can operate in European countries thanks to its passport, and we have branches in Germany, Spain and Italy to develop our commercial presence as well as our relationship with the regulators in these different countries.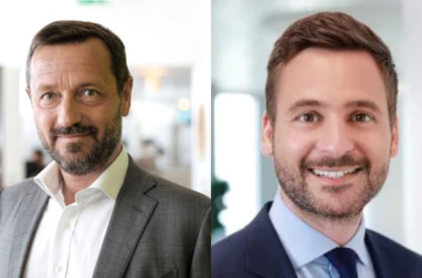 Treezor CEO Didier Lallemand (left) and Julien Maldonato, Deloitte FSI Partner (right) 
This interview was translated from French. To view the original interview in French, click here.